Want to make a difference in Buckhead in 2017? Make a resolution to be more productive with your dollars! Your donation to the PATH400 Capital Campaign:
Supports a critical connection to Atlanta's regional trail system, including the Atlanta BeltLine
Provides easier access to MARTA rail or bus stops throughout Buckhead – making it easier to get to your office, retail centers, or entertainment without relying on a car
Increases opportunities for exercise and social interaction for residents, visitors, and office workers around the Buckhead community
Adds economic vitality by bringing customers to the door of businesses along the PATH400 greenway- from Miami Circle and the banks of Peachtree Creek all the way up to Buckhead's commercial core along Peachtree, Piedmont, and Lenox
Provides walkable and bikeable access to art installations, historic landmarks, and community features
Every donation puts us one step closer to finishing PATH400. Your support also sends a strong message to grantmakers, corporate foundations, and others in the community. Using the initial funds invested by a community partnership led by Livable Buckhead, the Buckhead Community Improvement District, and PATH Foundation, we have already completed over 2 miles of trail in Buckhead! Livable Buckhead is leading the effort to raise funding to complete construction of the 5.2 mile greenway. Our construction schedule is based on available dollars, so your support is critical. 
Find out more about Livable Buckhead's capital campaign – and join the friends, colleagues, businesses, and neighbors helping get it done through a DONATION today. On our giving page, you can designate one-time donation or monthly donation to the PATH400 Capital Campaign.
You can read about our donor recognition and benefits. Every contribution supports the goal of building PATH400 and making Buckhead more livable!
Donate online: Donations to Livable Buckhead are processed by PayPal.
Donate by mail: Livable Buckhead – 3340 Peachtree Road, Suite 1640 Atlanta, GA 30326
We are grateful to these generous sponsors for their leadership gifts to the Capital Campaign.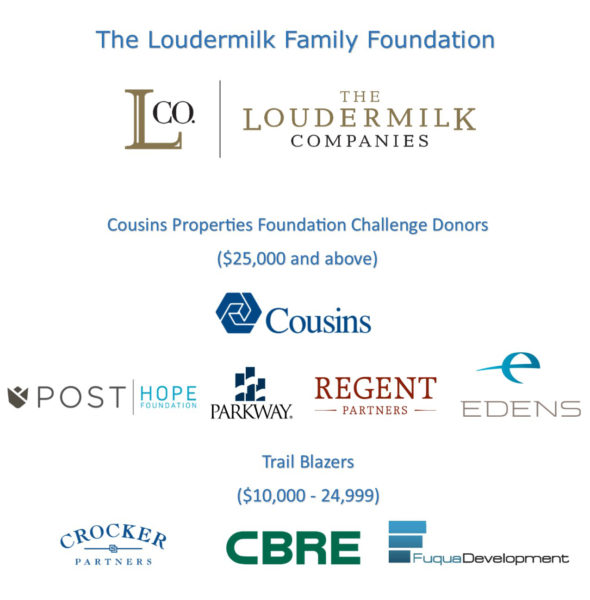 Download a complete list of donors.